Do media consumers actually get to read what they really want? Are comments and feedback on social media platforms considered as 'ideas' to draft stories? This blog post showcases the 'design' aspect of news stories.
"We have no evidence. Our newsroom chases the topics we can get money to cover, not what our audience has shown they actually want." (Anonymous Reporter, Kansas City, USA)
What readers want
What is the purpose of Media? What are its functions? Academically speaking, the Media has multiple functions, which include its duty as a caretaker and instrument to publicize necessary information and, more popularly, as a manifestation of cultural interests and trends. It serves as a 'feeler' of the society and an instrument to propagate awareness among people. As an institution, the Media's duty is to help strengthen and support processes and national values.  The 'ask' is indeed numerous. However, fulfilling them comes with numerous challenges, such as:
Curb on freedom to cover and publish
Financial issues
Competition from other Media agencies
Threats from anti-social elements and ruffled political quarters
Challenge from social media. Trends today seem to emphasize on 'personalities' There is more credibility to the person posting the news more than the news itself. Also the social media sites are ubiquitous. Social media also provides features to share news based on people and topics of interest. Thus, the competitor for a media house isn't limited to just another media organization, but social media too.
But perhaps, what challenges an impassioned reporter the most is to know what the readers actually want to read.
Do you know what the seven essential qualities of a Design Thinker are?
Newsroom reality – An opportunity for media innovation?
The usual scene in the newsroom of any news media organization is that of a silo – to the reader's world. In fact, newsrooms connect to the reader only after a story is published. The connect happens only if the reader decides to provide a feedback through the media's website or mobile app – or as in the good old days – write to the editor directly. Alternately and increasingly, the reader reaches out via the new media organization's social media sites.
The question is: what's the point? Often the person reading the comments might not be "in a position to actually make that feedback matter to the newsroom". So this channel may not be effective enough for reporters to gauge their readers and learn from their feedback. The moment a story is published, the reporter is off to work on the next story. The editors become "surrogates" for the readers.
Most editors approve a story based on assumption that it is important due to geographic proximity and impact, timeliness, and due to protagonists. However, in an industry that faces tight budgets and tighter publication timelines and very limited resources, assumptions cannot afford to be incorrect.
Can Design Thinking help?
Jennifer Brandel, in her article 'Design Thinking and Journalism go Together' raises the aforementioned question. She believes that "newsrooms aren't empathizing, prototyping, or testing their work with their audience before they publish".  However, she says there is a possibility by applying the principles of Design Thinking. In other words, there is a lot of opportunity for innovation in the media.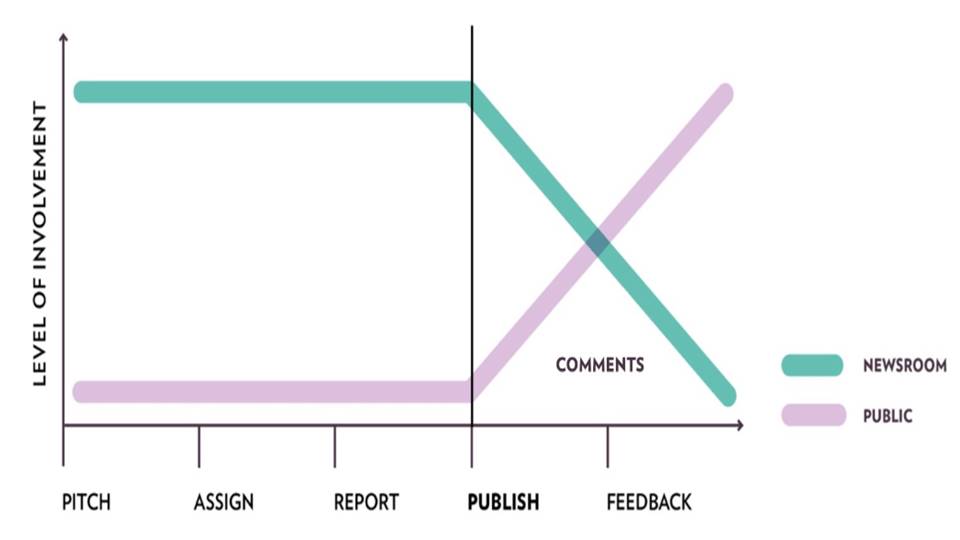 She calls this "public-powered journalism." In essence, in this model, people (the public) influence the stories journalists are working on. The public can communicate, with effect, the topics of their interest forward their – and the newsroom responds. In such a paradigm the public may probably not know the journalist directly or indirectly. However, their communication of a story idea through a social media channel undergoes honest consideration and elicits a favorable response – a truly democratic process in a pillar that upholds democracy.
Design elements in the process
Empathy: It all starts with empathy – what the reader (public) wants to read? What were they actually interested in and wanted to know more about? This is the first question every editor attempts to answer. But their success is anybody's guess.
Define: What should be covered and what not. Let the public decide through a democratic tool – voting. This helps clearly define (and understand) what the reader wants.
Ideation: How do you narrate the story? On what platforms can the story be published? What format should the story take? Critical questions that can be answered through in-depth ideation process.
Prototype + Test: A good method to prototype this model is by allowing a representative of the 'public' to travel with the journalist to "understand what information was most important to them".
While such a model may not be usable for 'quick' reports, such as accidents and other emergency stories, it is a good and empathetic way to design stories ideated in the newsroom.
A case in point: The Voice of San Diego
The year was 2012 and the occasion was the city council elections. Voice of San Diego was planning to cover the elections in a different way. Andrew Donohue who was then the senior editor, didn't want to cover the event the usual way of "publishing more stories on the candidates' agendas", but wanted to leverage Design Thinking – especially empathy and prototyping – to create more impactful stories.
The reporters of Voice of San Diego used 'empathy' to understand what the readers actually wanted. As the initial step, they went out to understand readers' actual interests and issues. For example, civic problems related to "city sewer, water or trash pickup" were more in the minds of people than political agendas. In some areas problems pertaining to crossing roads were considered important.
Such stories in sync with the upcoming city council elections were published and were very well accepted by the readership.  "Instead of starting with a story idea, you start with a question and work with a community, be it virtual or real, through live events or interviews," says Donohue.
"Our stories were based a lot more in real people's needs rather than the story being dreamt up in our head about what we think is important or what document we happen to have or what sources happen to tell us."
Any human endeavor needs to have humans in the center. After all, isn't Design Thinking all about being 'human centric'?
Would you like to know more about Design Thinking and how corporates within India and across the world have successfully leveraged it? Write to us at info@d-thinking.com. You may also read about our programs exclusively for corporates.
Reference
[1] Design Thinking and Journalism Go Together. Here's How.
[2] Voice of San Diego digs into residents' concerns
Related Reading
[1]Celebrating Design 3: Financial Services Is All About Empathy
[2] Collaboration – Ego = Innovation