"Have stories to tell!" One may have been hearing about this phrase since long. But having stories isn't limited these days only to bed-time or sharing stories isn't limited for school teachers only while narrating Aesop's fables with moral values for toddlers. Storytelling has become a part of parcel of every marketing process today.

To make it more relatable to the current situation; where the world is fighting the wave 2 (wave 3 in some parts) of the COVID-19 pandemic, we will take you through couple of anectodes where the influencer has used some basic form of storytelling to drive home the point of importance of vaccination. The influencer has attempted to remove the 'vaccine hesitancy' which yielded positive results.
What is storytelling?
Storytelling is nothing but driving home the point. It is about creating a compelling narrative for your audience by linking your "point to be driven" to something that will resonate with them. There is no formal OR a methodical way to apply storytelling in your conversation with your audience. Influencers use different techniques to create that resonance. But there is one underlying critical element which forms the crux of storytelling. That's called Persona.
Persona of your audience/ stakeholders/customers is an integral part of any design thinking application. You may have heard about empathy playing a critical part in design thinking. Persona is an outcome of empathy. Empathy is putting ourselves in other's shoes whereas persona reflects how best have you applied empathy. But before we understand persona-based storytelling, lets try to understand why is storytelling needed in the first place….
Why is storytelling so important?
Design Thinking will give great path-breaking ideas , but ideas can't explain themselves. Every idea/solution will need a guidance of proper communication to create the impact for all the stakeholders. That proper communication is storytelling. It will develop a buy-in from the audience who will be your stakeholders. History is full of examples where ideas failed to trigger the excitement from the audience because those were not told correctly. Why jump to history directly? Kindly ask yourself – How many times did you feel after the presentation/discussion that ; had I communicated my presentation in this way, would it have created the interest? Why couldn't I think of this analogy while explaining? Oops!! It was so simple yet I complicated it while explaining….
We at School of Design Thinking feel that every Design Thinking process shouldn't end only at testing or prototyping the idea. It should also involve communication (storytelling) as a critical element. Else, the Design Thinking practitioners may come up with a great innovative idea but if that doesn't resonate with the audience; their entire efforts would literally go waste. Accordingly , to fill this missing piece in the process, we have designed our indigenous – 5-Step Process of Design Thinking©.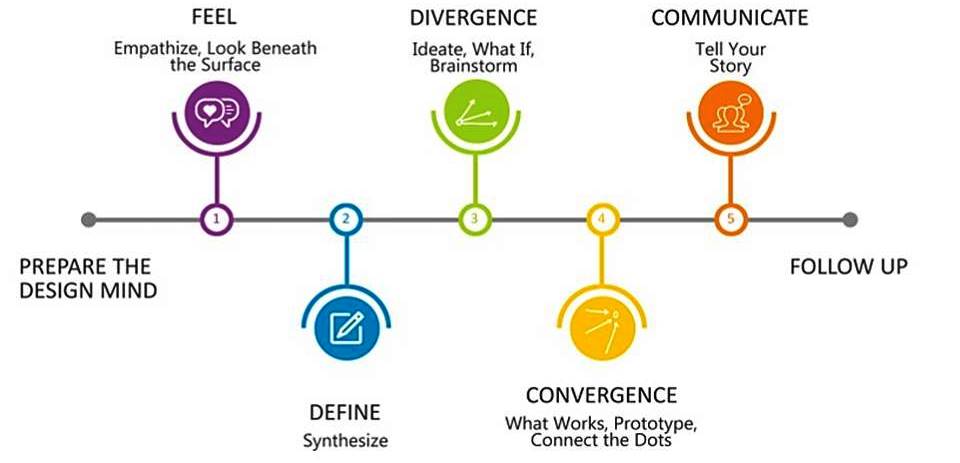 As you can see – COMMUNICATE sums up and culminates the Design Thinking process.
What is Persona-based storytelling?
It is very important to understand the persona of your audience before you try to stitch your story. A persona is nothing but a personality or representation of your audience/stakeholder/user in the Design Thinking process. A persona is a shortened but precise description of someone. Various templates of persona do exist but the essence of all of them is the same . Any persona template will revolve around the background of the stakeholder, their aspirations, their doubts and importantly their functional & their emotional needs. It also includes their goals, motivations and what hindrances they face in meeting their goals.
Persona can be drawn of any specific person as well as of a particular demography. In case of the latter, the persona is called as 'Cluster Persona', meaning persona of a cluster / group of a people. Though there will be differences in minute elements of each person within that group/demography, yet at a group level, almost all of them will have same characteristics.
Storytelling is weaving a story around these elements of persona during the presentation.
You can use any mode for presentation. It can be a meme, a roleplay, a simulation, a prototype, an act or it can be even a regular powerpoint presentation (PPT). These are mere modes/ways of presentation. Storytelling is tapping to different elements of the persona of your audience & connecting it to the point you are making.
Vaccine Hesitancy & Storytelling in different parts of India
Vaccine hesitancy (having doubts about the vaccine and its benefits that led to avoiding vaccination) prevailed in many parts of India especially during the early stages of the vaccination drive. One can imagine the gravity of the situation in far-off places such as semi-rural and rural,tribal parts of India where the awareness is minimal, electronic communication is always a challenge. The situation became extremely complex when the matter was related to vaccine – the only life saving weapon in fight against the pandemic. People having hesitation simply wont accept its benefits. In such situations, there was a need to understand the 'persona' of these citizens – their backgrounds, their ethnicity, their overall social behavior & then try to address the fears they had in terms of vaccines. Vaccination influencers latched on this & then the magic unleashed.
Usage of local dialect
Dr.Chandan Pimparkar, one of the doctors of the primary health centre adopted the usage of Korku – one of the endangered languages of the world and spoken by less than 6 lakh people, while interacting with residents of Tembhrusonda village. The village is located on the periphery of Melghat tiger reserve in Maharashtra. The area is predominantly is a tribal belt. The villagers resonated with Dr.Chandan as if he was one of their own. Dr.Chandan also roped in local political leaders to lead awareness meetings and clear people's doubts regarding the vaccines.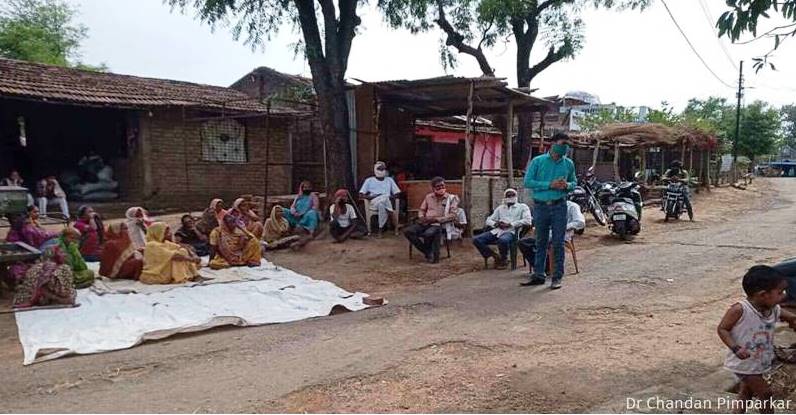 Several videos were also uploaded on the Youtube channel owned by the Integrated Tribal Development Project in Korku language. Within a matter of time, the adoption of the vaccines improved & couple of villages in some blocks showed 100% vaccination rollout.
---
View the video
Similarly in Nasik district of Maharashtra , the district authority resorted to using local dialects to clear misconceptions about vaccines. CEO of the Zilla Parishad said that several audio-video clips in local dialects were made to drive home the point of vaccination.
Memes woo people for vaccination
In the northern part of India in Rajasthan, district administrators took help of social content creators & YouTubers to create content to illustrate the importance of vaccination. They created content in the local Wagdi language in forms of posters,catchy songs and even memes. That helped to bust the myths surrounding the vaccines.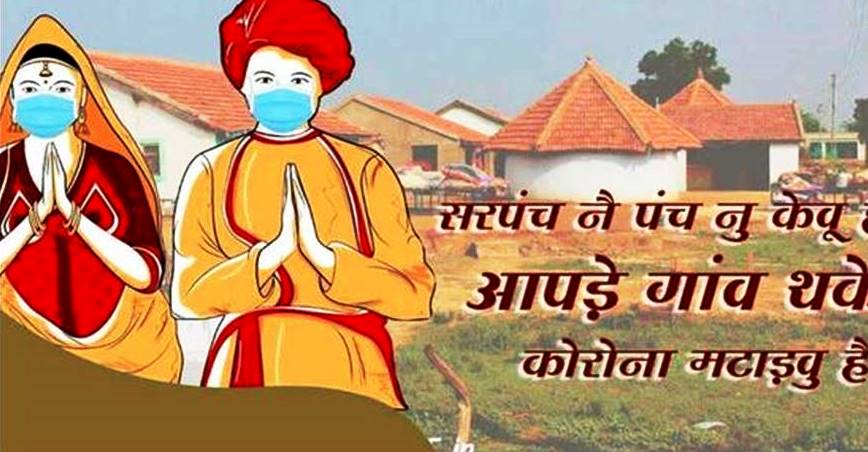 Catchy rhyming messages such as "Kaka Jaju, Kaki Jaju, vaccination Karvi Avju" (Kaka and Kaki please come for the vaccination) became hit. A senior official said that people feared vaccination may cause impotency. Tribals usually resort to quacks & don't like outsiders. But communication in their own language helped a lot to quell doubts and they proved effective.
Folk Art comes to rescue
Cultural troupes across Goa and Maharashtra adopted to street plays in several districts of the states to increase the outreach and effectiveness of vaccination communication. That helped to find the resonance in local communities.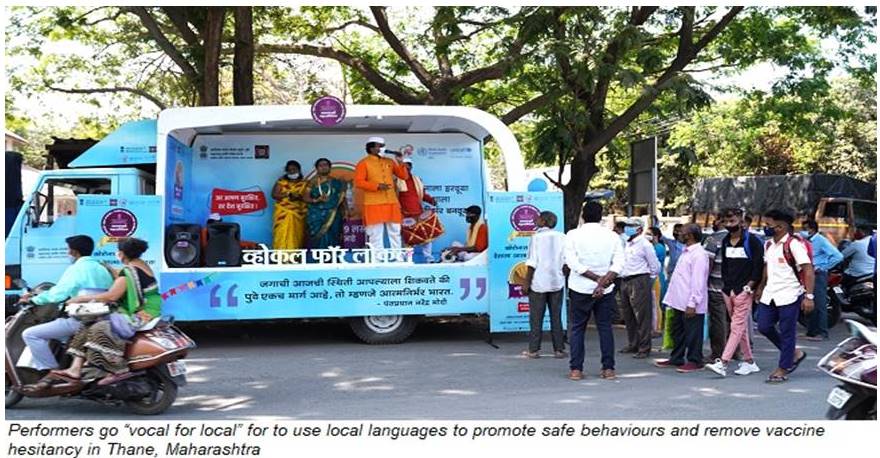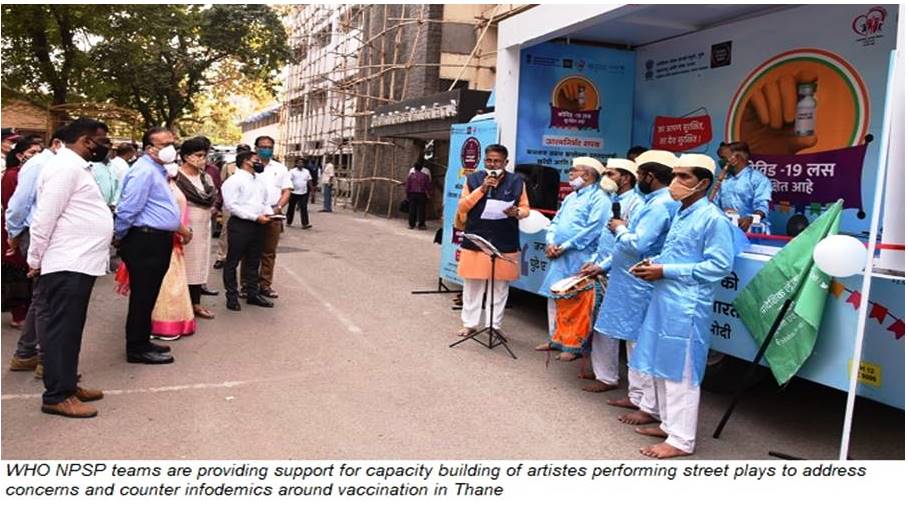 The script revolved around latest information about the disease and vaccination details to address the concerns that fueled vaccine hesitancy. This advocacy initiative was run by the regional Outreach Bureau of Maharashtra and Goa falling under the IB Ministry of Government of India in collaboration with WHO Country office for India, UNICEF.
If we carefully see all the above stories, an important common element is the adoption of local language & only that language could have calmed an already anxious 'persona' who has half-baked information. Communication in local language, influencers dressed in local attire, doctors speaking in their dialect all matched with a typical 'cluster persona'. Folks felt someone from them was speaking & that quelled the hesitancy. So, only storytelling to drive home the point won't be that productive until the influencers deeply study & arrive at the persona/cluster-persona that they are trying to interact. Only then , the exercise of storytelling will yield aspired outcomes.
References
Nashik district authority to take help of local dialects of tribals to facilitate COVID-19 vaccination drive