DESIGN THINKING FOR THE SOUL – THE IKEA DINING EXPERIENCE!
"Hi! I would like to reserve a table tomorrow for 8 people at 11AM!"
"Thank you for contacting Sir! May I know the preferred cuisine you would like to have?"
"Yes. We are planning on having some scrumptious Italian dishes!"
"That would be great sir! We will be providing you our exclusive Italian template platter, which includes all vegetables, meats and spices as required for making your dishes and the basic culinary set of cutlery and necessary utensils. Any specific instructions you would like to give us regarding the dishes tomorrow?"
"Yeah! It would be great if someone guides us on the marinating part! We are not well versed in that!
"Sure sir! No problem! Looking forward to host you tomorrow!"
Well…on the glance of it, for most of us the above conversation might come across as a typical ala-carte table booking dialogue in a big 5-star hotel.
What if we told you, that the above conversation could also occur…..in a furniture shop?!
Sounds bewildering! Isn't it?!
Ladies and Gentlemen, here's presenting you a unique, first of its kind "IKEA Dining Club!"
But wait?! What has a restaurant got to do with IKEA?! I mean, we all have gone to IKEA, enjoyed their unique Swedish meatballs and delicacies in their canteen, what has dining services got to do with a furniture major?!
Well, let's take a step back and see how this peculiar idea got metamorphosed in its current form!
IKEA has always been at the forefront of innovation and is the de-facto name that comes to our mind when it comes to terms such as DIY, keeping costs low and achieving operational excellence. That has always been the unique persona of IKEA.
While IKEA is famous for its experience centers, one major crowd puller of every IKEA store is of course their food court!  The IKEA canteens are pioneers in visualizing a new way by which we order food. Anyone who has visited an IKEA store would recall the unique experience where we take a customized cart and fill it with the snacks displayed at the canteen while queuing up at the end to pay the cashier. Unlike a traditional canteen where you pay first, take a token and queue up for getting your dish, this unique process ensures that there is no crowd which is made to wait in order to get their dish!
Back in 2016, IKEA in the UK conducted a survey to understand the patterns and practices of how families typically cook in their homes (time taken, frequency of meals, preferred dishes, what time of the day they take the meal, what kind of conversations do they have around the dining table etc.). This was done in order to better understand how they can optimize and improve their culinary products to make life easier while cooking. The results they got, were however shocking!
It found that only half of British families find the time for a sit-down family meal at least once every week – a sharp fall from 72% in the previous generation.
The results show that British dinner parties are "under threat" – with 42% of Brits claiming they can't cook, and nearly a quarter feeling that they don't have enough space to host a dinner party. This is despite almost 30% of people wanting to entertain guests at least once a month, the Swedish chain claimed.
There are a multitude of reasons why everyday cooking is a challenge. But the most commonly quoted reason, is the lack of time. We've all faced this! Making everyday meals isn't fun for everyone. Cooking on weekdays carries with it feelings of reluctance, boredom and a lack of inspiration.
IKEA, in their research opined using cooking as a therapy tool since it eases stress, builds self-esteem and curbs negative thinking by focusing the mind on following a recipe.
IKEA understood that there was an underlying requirement to make the kitchen an important place for self-expression. There was a need to cultivate a playful attitude towards cooking! Finished meals aren't just a means to an end – it seems like it's also the journey that matters with all the mishaps and small personal victories made along the way. There really seems to be a case for getting around to more of those little kitchen moments as they may well lead to less stress and increased mindfulness.
More importantly, IKEA also underlines the importance of involving children as a part of the cooking process. By involving kids in the cooking process, they learn to love the foods that will support good health and enjoyment throughout their lifetimes. In the process, they learn and understand a great deal from doing tiny little things beyond the cooking process such as counting by measuring flour, planning when grocery shopping, setting the table, getting creative choosing napkin colors or just practicing the teamwork involved in making an everyday dinner great.
Another common problem faced by today's Gen Z families is the fact that they don't eat together. As the popular saying goes – "A family that eats together stays together!" However, this doesn't seem to hold good today! Trying to stick to traditions of the past can add extra pressure on today's younger generation who have actually migrated their meals space from the dining room to the hall sofa, bedroom or the desk!  A majority of people today have their meals outside the kitchen or dining room once or several times every week with many of them actually not experiencing the feel of dining together in the dining room!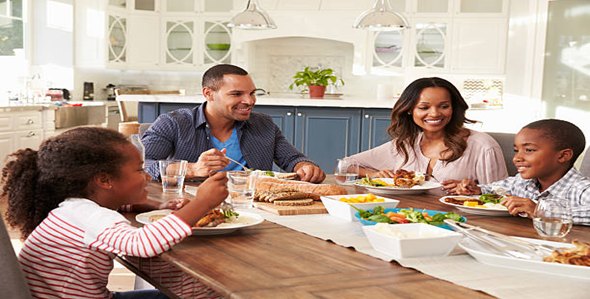 Keeping all these factors in mind, IKEA has launched a fully immersive do-it-yourself restaurant – "The Dining Club" to encourage consumers to cook and eat together. The restaurant will offer members of the public the opportunity to host a brunch, lunch or dinner party for up to 20 friends and family. With the option of getting assisted by their own expert chefs and culinary experts offering food for thought through their unique master classes, the host and their guests will orchestrate an intimate dining experience "where cooking together is celebrated and eating together is inspirational".
According to them, the joy of cooking and eating together is not just about making food, but about creating lasting memories, along with connecting and sharing with those you love. Research has shown that many people want to host dinner parties but feel that they are unable to do so. With the launch of The Dining Club, they hope to create the perfect ambience to bring people together to enjoy a meal from beginning to end without any stress. What's more, customers also get to name the restaurant after themselves for that stipulated period of time! Talking about make-believe, this takes it to a whole new level!
In viewing from the lens of a business viewpoint for IKEA, it also doubled up as a unique opportunity to showcase their customized solutions for the kitchen – ranging from their utensils, crockery, cutlery and other items required for cooking to even the theme for a dining room! Not only does it encourage the users to get their hands dirty by experiencing their products hands on while actually cooking in order to boost their sales, it also gives them insights as to how do people actually cook in the kitchen, what might be the problems they may encounter while using a particular utensil or an accessory. In short it helps them also to identify the blind spots and the unstated requirements while designing their utensils, units of tableware and kitchenware. Constant feedback and rapid prototyping are two very important facets of Design Thinking which come alive in this unique restaurant themed initiative by IKEA. It also helps in enhancing the recall value of their products. There is a difference between seeing and actually using a product before buying it.
There was another interesting observation from these "Dining club" sessions! There is bound to be some wastage when we usually order a dish or a delicacy from a restaurant. However, when we cook it by ourselves, we don't tend to throw the remnants away. Rather, we make sure that most of the times, we cook exactly the required quantity for consumption and also pack it if necessary, to consume it later.
Right from questioning the assumptions regarding how pricing is done in a restaurant, moving away from the usual concept of buffet/ala-carte meals and charging per item to actually charging only for the raw materials used/time spent in the restaurant, each and every element of this initiative had a subtle touch of application of Design Thinking. They actually thought of an "experiential" alternative way of cooking, just like in our homes!

IKEA observed the unstated requirement of developing a culture around cooking together. In other words, it created an ecosystem around the cooking and dining experience! Making a meal with others is an excellent opportunity to bond and practice good teamwork. Through cooking, we're not only creating a happy experience out of what could be a chore, we're also setting the stage for more productive conversations with each other in the future.
More importantly it tests our communication, as well as the ability to deal with constraints and collaborate and unite with each other. In the end, even if the food doesn't turn out exactly as planned (does it ever?!), maybe there's something we can all gain from the time spent together and learn about ourselves and others, by cooking together! No wonder, many companies nowadays have actually included "Cooking Challenge" as a team building activity, as part of their induction programs!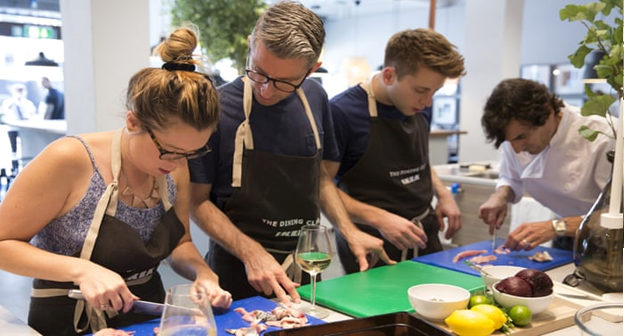 The journey is as important as the destination! The process of cooking must be as enjoyable as the part when we eat. IKEA's initiative of co-creating and collaborating with fellow customers gives a sense of achievement and involvement which goes much beyond the realms of customer relationship management. They are actually made as part of  the extended family where everyone here is an agenda setter and not an order taker!
"If you can organize your kitchen, you can organize your life!" – Louis Parrish
Source – https://www.telegraph.co.uk/news/2016/09/09/ikea-opens-pop-up-diy-restaurant-in-london/